mSR S RTF with SAFE Technology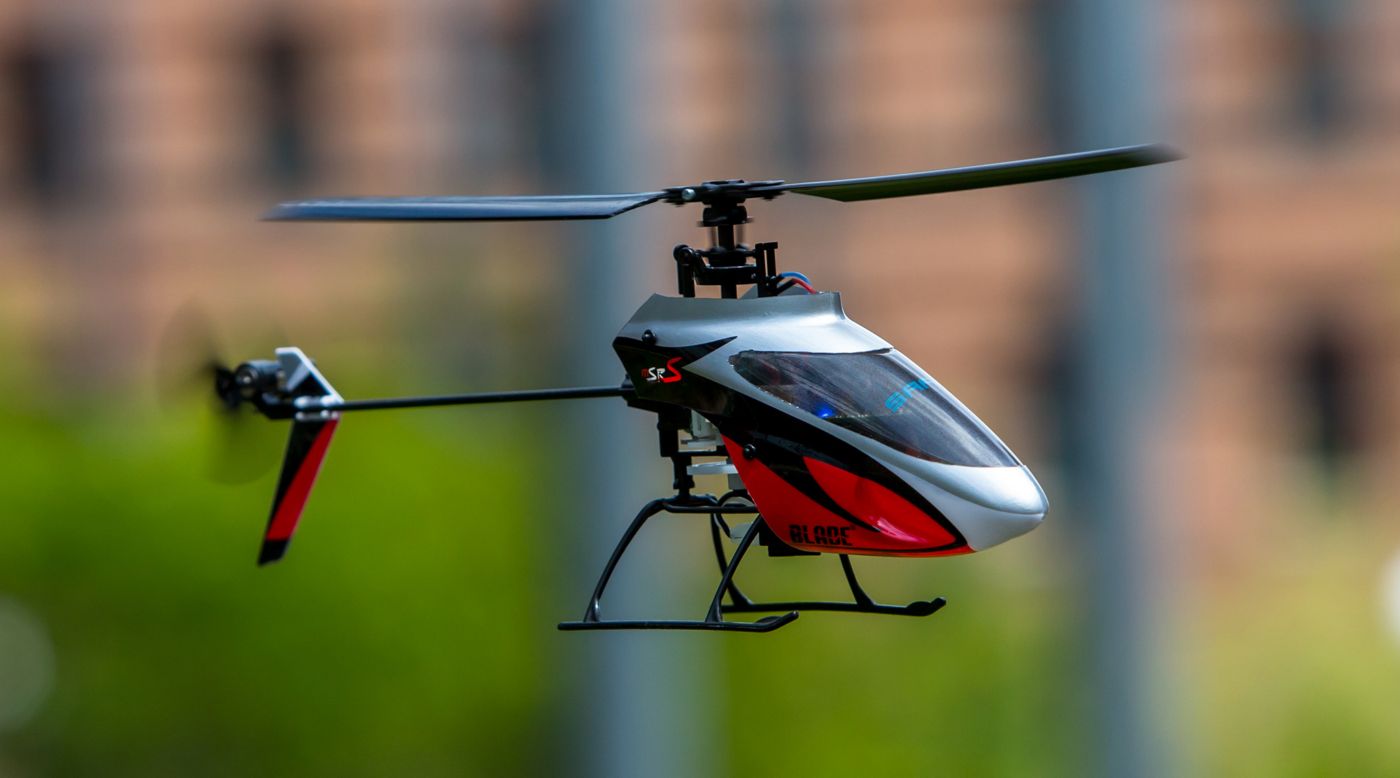 Overview
Modeled after the popular ultra-micro Blade® mSR heli, the Blade® mSR S is a great way to step up from coaxial helis and multirotor drones to a single-rotor machine. Fixed-pitch, flybarless rotor simplicity lets you enjoy extra speed and agility with a durable and efficient design. The included 1S 150mAh battery has a higher 45C discharge rate, so you get more responsive power while keeping the battery weight the same. Exclusive SAFE® and AS3X® technology helps keep you in control by delivering the stability you need to develop confidence quickly. The variable high and low rate modes allow each flight to match your flying style and environment. Even experienced single-rotor pilots will find the mSR S great to have around whenever the time, place or weather keeps you from flying a bigger heli.
Key Features
SAFE® Technology to Ensure Next-Step Success
Advanced AS3X® Technology Delivers Rock-Solid Flight handling
Fixed-Pitch Rotor Head
Incredibly Durable Construction
Easy to Repair and Maintain
Fully-Assembled with No Building Required
Night 230 S BNF Basic with SAFE Technology
Overview
The Blade® Night 230 S helicopter is great for getting started in helicopter aerobatics. Equipped with brilliant LED lighting, the fun doesn't have to end when the sun clocks out. Durable features like ABS blades and metal-gear cyclic servos mean you can be flying more often than fixing. The ability of innovative SAFE® technology and the progressive flight mode system it offers means that controlling a collective pitch heli is more comfortable, even if you're a beginner. Stability mode helps keep you in control with the safety of bank limits and self-leveling so you can build your flying skills quickly. When you're ready to move forward, Agility mode opens the flight envelope to explore basic aerobatics and 3D mode enables the Night 230 S to really come to life. In addition, Panic Recovery mode can recover the Night 230 S to level flight at the press of a button so you can prevent a crash
Key Features
Brilliant LED frame, vertical fin and main blade lighting
SAFE® technology makes helicopter flight more fun
Progressive flight modes help you build aerobatic skills quickly
Panic Recovery mode can recover the heli to a level attitude
Collective pitch rotor system with flybarless mechanics
Brushless main and tail motors for great power and response
Spektrum™ AR636 DSMX® receiver with AS3X® heli technology
Durable, digital high-speed cyclic servos with metal gears
Removable 1S Li-Po main blade batteries and USB charger included
Streamlined canopy that's lightweight with a vivid color scheme
Tough, yet lightweight airframe with impact resistant ABS rotor blades
Accepts compact 800-900mAh 3S Li-Po flight battery packs
Long flights of up to 6-minutes are possible
Nano CP S RTF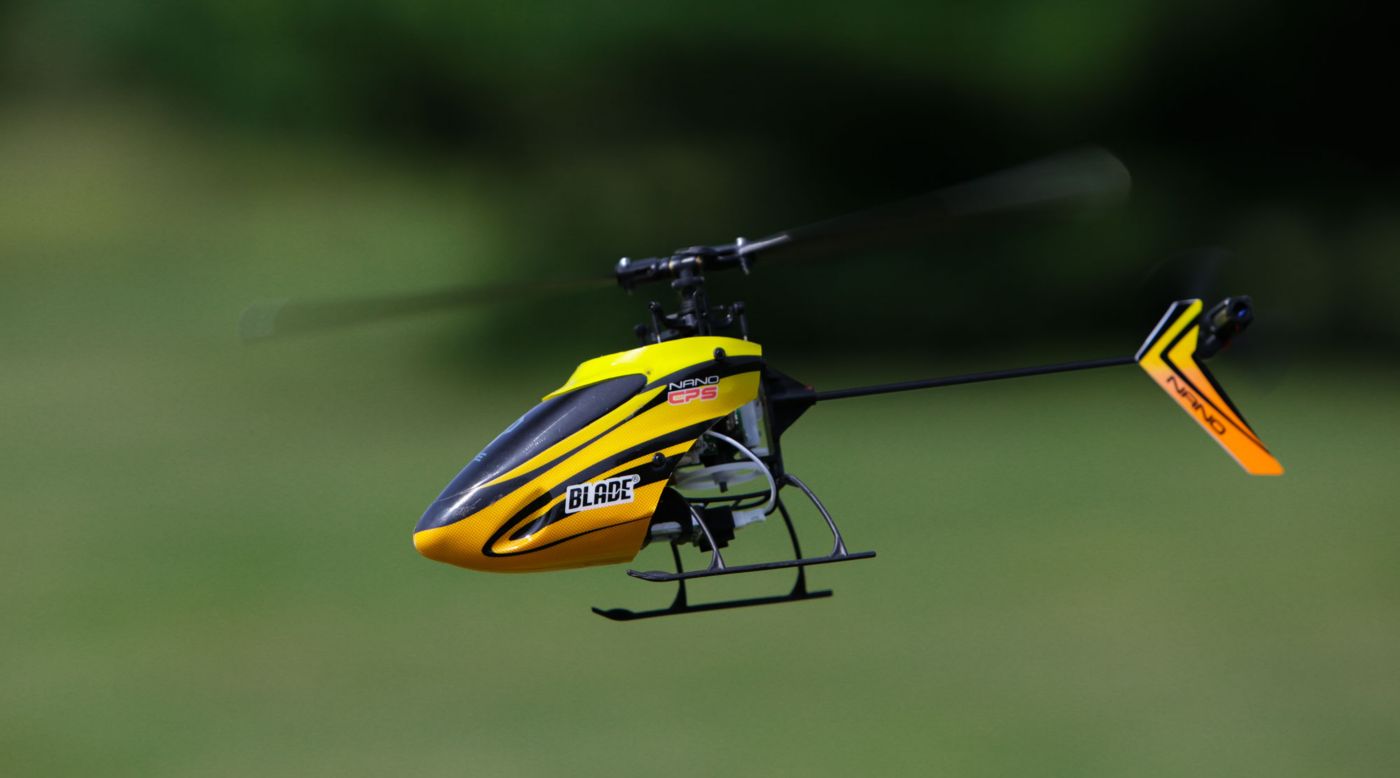 Overview
The original Blade® Nano CP X impressed the RC market with a palm-size 3D heli that performed incredibly well at a fraction of the cost most machines with the same capability offered. As its popularity grew, users dubbed it the "Real-Life RC Simulator" because most impacts that occurred while practicing 3D did practically no harm to the wonder-machine. Today, the little Blade Nano CP takes another leap forward by incorporating SAFE® technology to its list of innovative features for an aerobatic experience that will help you be even more fearless.
The Blade Nano CP S ultra micro RC helicopter is the perfect choice for aerobatic heli fun, especially if you want to try 3D maneuvers for the first time. Although its lightweight airframe and sleek pod-n-boom design seem fragile, construction with super-resilient polymers along with a carbon-fiber main shaft and tail boom allow this amazing machine to have wicked durability. A simple approach to mechanics and electronics carries throughout with efficiency that makes a mere 1S 150mAh Li-Po battery deliver all the power and agility necessary to perform a wide-range of crazy 3D moves. SAFE® technology bumps this 3D machine to a level never before possible. The second you feel disoriented, just press the Panic Recovery button and SAFE technology will lock the Nano CP S into a perfectly level attitude. So whether you're going for your first loop, or want the ideal goof around machine, the Blade Nano CP S heli is full of tricks.
Key Features
Fully assembled, no building necessary
SAFE® technology makes learning 3D heli flight more fun
Flight mode versatility allows pilot to build skills quickly
Panic Recovery mode can instantly recover the heli to a level attitude
Durable construction that's ultra-lightweight
Collective pitch rotor system with flybarless mechanics
3× 2.1-gram linear long-throw cyclic servos (installed)
High-speed main motor and direct-drive tail motor (installed)
Two sets of main blades for aerobatic or fast flight (included)
Lightweight canopy and fin with vivid color scheme
E-flite® 150mAh 1S 45C Li-Po flight battery and USB charger (included)
Transmitter included