Inductrix FPV + RTF with DVR

The Blade® Inductrix® FPV + quadcopter is the next generation of micro FPV drones. Building on the success of the Inductrix and Inductrix Pro, this 8mm motor version comes ready to FPV right out of the box with zero fuss. With its integrated camera/video transmitter, Spektrum™ 4.3″ monitor with Digital Video Recording, and pre-installed LED tail light, it has everything you need and more for FPV fun. SAFE® technology makes flying simple while the ducted propeller design allows you to bounce off walls and objects without crashing! Innovative Meow Mode™ allows you to flip the quadcopter back upright after a crash by quickly reversing the motor direction. New altitude hold flight mode maintains the distance from the ground, providing an intuitive flight experience. The Ready-to-Fly version features a large capacity 500mAh battery for plenty of punch.
Innovative Meow Mode™ will flip a crashed, upside down craft to an upright orientation at the push of a button, no more walk of shame! Just like a cat, the Inductrix FPV + will always land on its feet.
Inductrix FPV RTF
When Jesse Perkins first flew the Inductrix® quadcopter, he knew that there was more to the experience yet to be unlocked. He mounted a small FPV camera and video transmitter, upgraded the motors, found a better battery and called it the Tiny Whoop™. Soon, thousands of Inductrix owners were flying in places they never thought possible! The new Inductrix FPV provides the freedom of flight in a fully ready-to-fly package as well as an FPV Ready Bind-n-Fly version. No soldering or 3D printing required! Enjoy a world you never knew existed when you are in the pilot's seat of the Inductrix FPV!
The Inductrix® FPV from Blade® builds on the wildly popular platform and transforms it into an incredible FPV machine right out of the box. With its integrated 25mW video transmitter, FPV camera, high performance motors and large 200mAh battery, the Inductrix FPV is capable of flying in the smallest of places with ease. Enjoy the view as SAFE® technology makes flying simple and while the ducted propeller design allows you to bounce of walls and objects without crashing! Tthe Inductrix FPV comes out of the box with everything installed on the aircraft itself. All you need to get is a FPV monitor to completes the entire FPV experience! If you are looking for that immersive goggle experience, the headset adaptor can be purchased separately as well!
Fat Shark Dominator HD3 Headset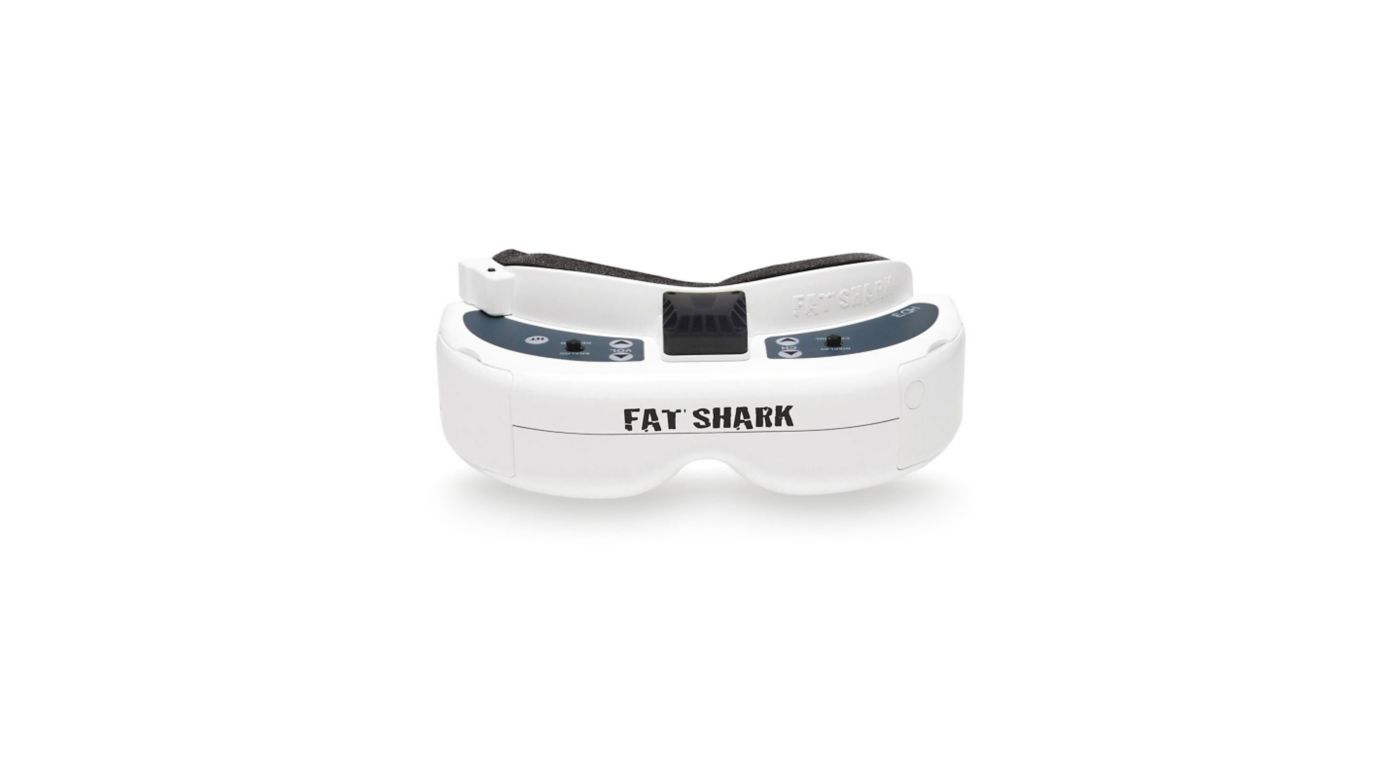 verview
The Fat Shark Dominator HD3 goggles allow for first-person viewing (FPV) of the video downlink from the wireless transmitter on your RC aircraft for a truly immersive flying experience.
The FOV on the HD3 has been dialed back to 42 degrees to maintain a large screen experience while delivering crisp optical performance for OSD readability. Digital pilots will appreciate the 16:9 display format when in HDMI mode to match the display aspect ratio of HD systems. The Dominator HD3 ships with a lower profile Velcro backed (removable) faceplate foam for a more accommodating fit.
Includes
Dominator HD3 Headset with Fan-equipped Faceplate
Zipper Case
7.4V, 1800mAh Battery with LED Indicator
AV Cable
Mini to Mini High Definition Media Interface Cable (include mini to micro, mini to standard high definition media interface adapters)
Specifications
FOV 42° Diagonal
59-69mm IPD Range (adjustable)
SVGA 800×600 Display
Support Side/Side 3D
NTSC/PAL Auto-Selecting
High Definition Media Interface 720p Support
Modular Head Tracker Bay
Modular Receiver Bay
DC in: 7-13V (2S/3S)
Power Consumption: 4W
Integrated Analog DVR (does not support HD recording)
Teleporter V4 Video Headset with Head Tracking
Overview
Developed exclusively for Horizon Hobby by Fat Shark, the Teleporter V4 headset is easily one of the best values in FPV fun. It's compatible with all Spektrum and Fat Shark 5.8GHz FPV cameras.
Digital Head Tracking
One of the coolest features of the Teleporter V4 headset is digital head tracking. Digital head tracking lets you look around the environment your model is flying through without the extra weight and complexity of a mechanical camera gimbal. Special sensors and software in the headset allow you to pan and tilt your field of view using the fixed-position VA1100 camera. It's just one more way this Spektrum FPV system lets you have more fun with fewer hassles.
This headset accepts a diopter insert to accommodate those who wear glasses. The Headset Diopter Insert Kit includes one pair each of Diopter inserts rated -2, -4, and -6 dpt.
Key Features
QVGA 320 x 240 LCD displays
5.8GHz wireless receiver
Spironet RHCP antenna
Digital head tracking for Spektrum FPV cameras
Trainer link head tracking for gimbal controlled cameras
760mAh 7.4V LiPo battery with charge adapter
Lens cloth
Transformer SE Bundle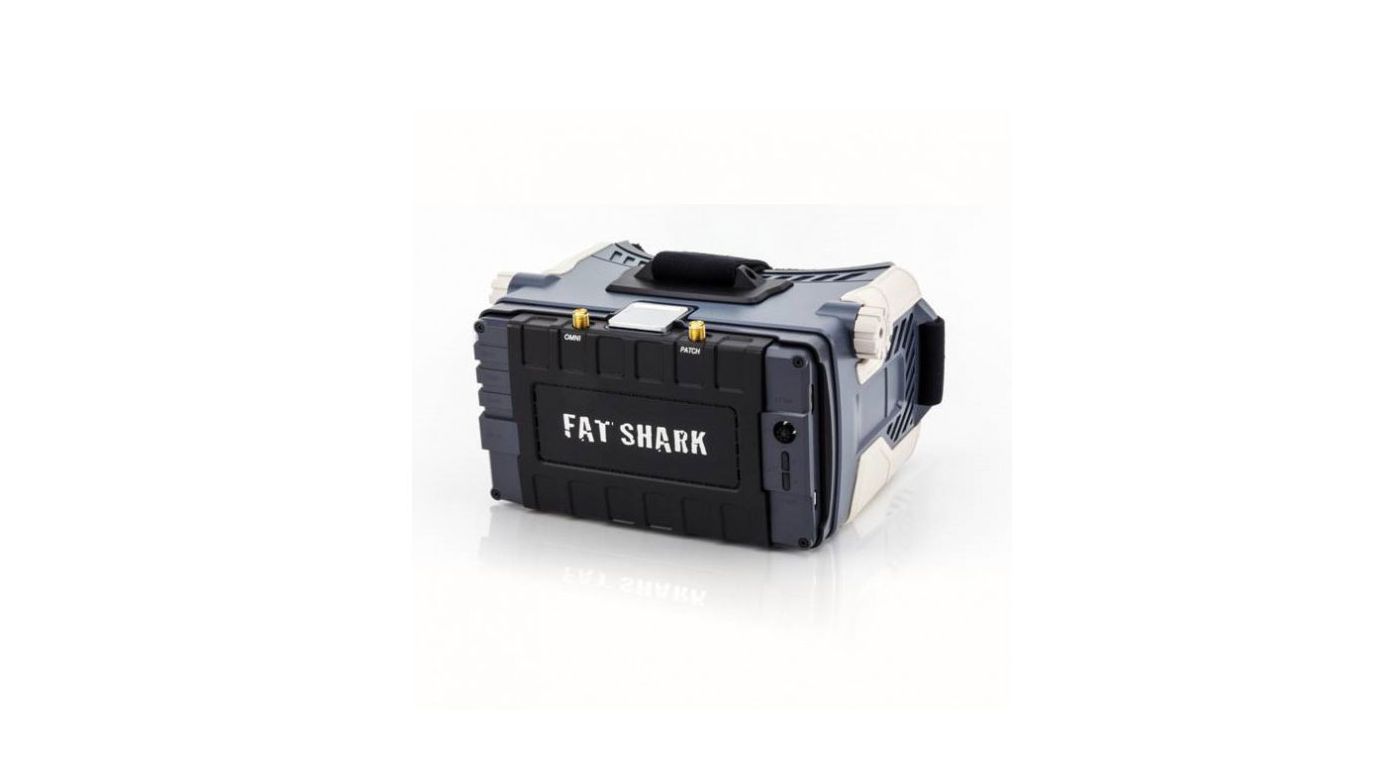 Overview
Fat Shark's Transformer SE bundle is the ultimate kit for ready-to-fly drone racers in search of an all-in-one, ultra-immersive, FPV experience. Including an updated, 720p HD panel with a built-in diversity receiver; two antennas; a binocular viewer and a battery case (FSV1814), the bundle comes with everything needed to pick up an FPV feed – simply load two 18650 batteries, pick a channel and fly.
New in the Special Edition configuration, the included 720p panel can now take analog and digital feeds, while the built-in, 32-channel diversity receiver has been reconfigured to cut down on multipath interference. The Transformer SE monitor can additionally be decoupled from the headset to act as a standalone ground station. The Transformer SE bundle delivers the same, ultra-wide, 55° field of view as past editions while adding improved reception, included antennas and value pricing. For a simple and immersive FPV experience, there is no match.
What's In The Box?
720p monitor with antenna diversity receiver
Directional antenna
Omni antenna
7.4V 1000mAh headset battery
Power extension cable
Screen and lens cleaning cloth
Specifications
720 LCD Display:
High Luminosity (400 cd/m2)
NTSC/PAL Auto Selecting
High Definition Media Interface 720p support
5.8Ghz 32ch antenna diversity receiver
DCin: 7-13V (2S/3S)
500mah@7.4V(RF mode) /320mah@7.4V (AV mode)
Binocular Viewer:
FOV 55°
Fixed IPD (55 – 76mm)
700TVL WDR CMOS Fixed Mount FPV Camera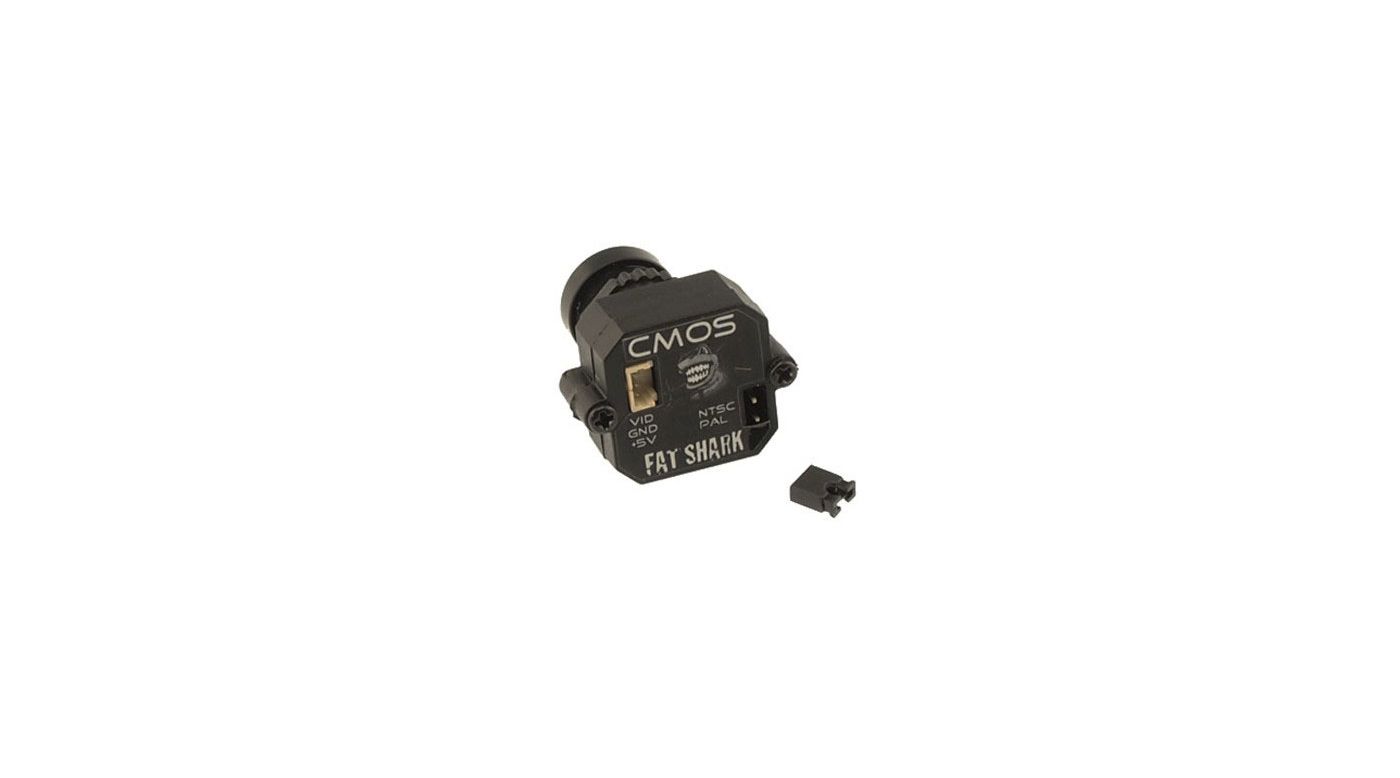 Overview
Latest generation high resolution 700TVL WDR CMOS fixed mount camera has FPV tuned light handling and is NTSC/PAL selectable.
Latest generation high resolution 700 TVL camera with ⅓" imager has customized AWB sampling region and gamma backscatter for fantastic FPV performance. Fantastic WDR (wide dynamic range) ensures ground detail can be seen even facing late afternoon sun. Colors, light handling and clarity are noticeably superior to the previous 600L CMOS.
Compatible Products
Fat Shark RC Vision Systems 700TVL WDR CMOS Fixed Mount FPV Camera FSV1204 is compatible with 
BLH01000
RunCam 2 HD Camera
Key Features
Lens Hood Specially Designed for FPV
The replaceable design is beautiful and exquisite, better protects the lens against stray light and glare.
Better Appearance
More Advanced Technology
GE PC/ABS blend thermoplastic.
Matte surface.
Wear-proof UV coating.
Better Button Structure
New Touch Feeling
Ergonomic button design
LED light ring: easy to read from any angle
The bottom door keeps the micro SD card from popping out in crash.
850mAh Replaceable Battery
90 minutes under 1080p 30fps
60 minutes under 1080p 60fps
5.8GHz 25mW Micro Video Camera and Video Transmitter, 5-13V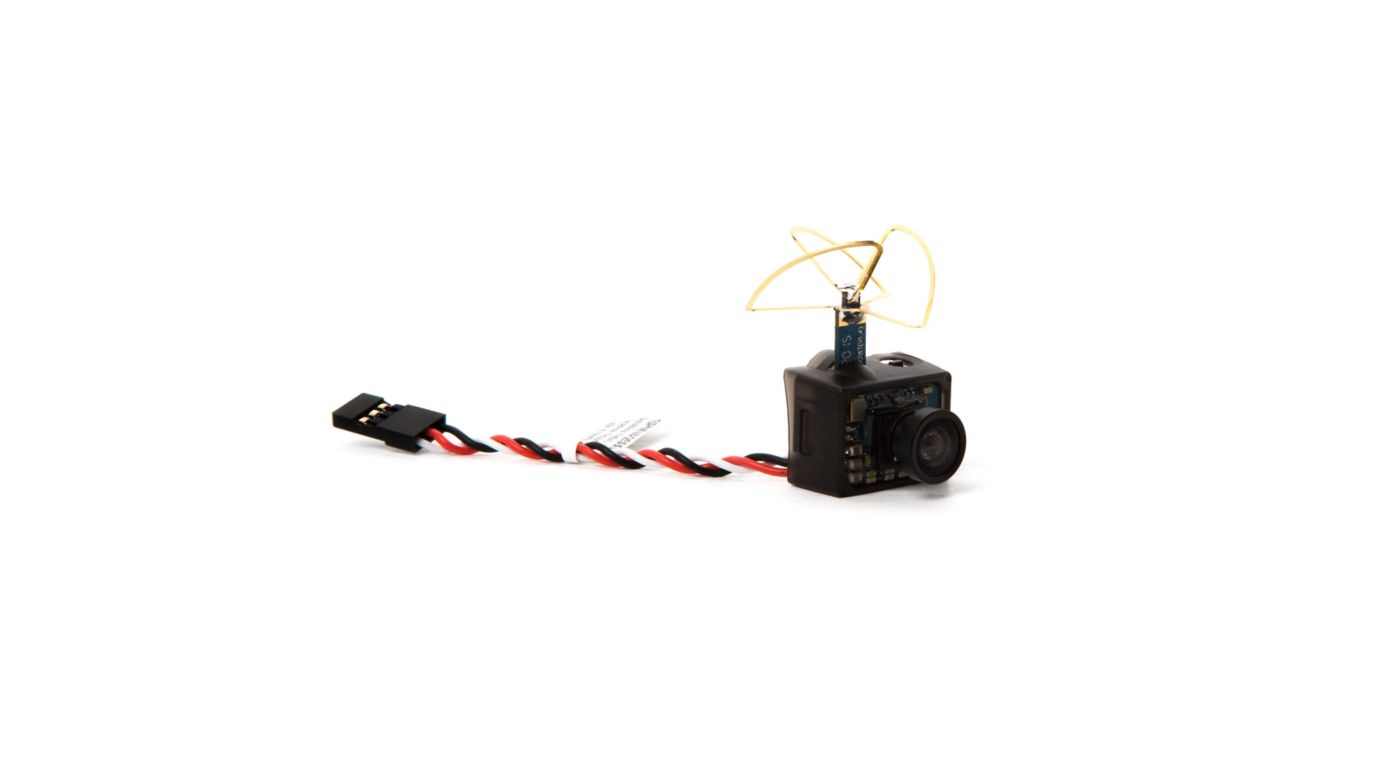 Overview
The VA2500 combines an FPV camera and a 25mW, 5.8GHz transmitter into a single unit no bigger than a thimble. Its signal range is ideal for small park flyers or racing quads and it can be powered separately or through the model's receiver. Powering it separately requires a 2S or 3S Li-Po battery. If powering it through the receiver, its integrated power filter will prevent interference from the model's motor and servos.
The VA2500 is compatible with all 5.8GHz Fat Shark headsets and can be installed in minutes. If your RC system has a spare channel, you can remotely change the frequency via a dial or switch on your transmitter.
Key Features
Integrated camera and 25mW transmitter
Excellent image clarity in all lighting conditions
Enough signal range for small park flyers and quad racers
Compatible with 5.8GHz Fat Shark headsets
Assignable frequencies through servo port
Requires 2S or 3S LiPo battery, sold separately
Powered separately or through model's receiver
Integrated power filter prevents motor and servo interference
No 2.4GHz RC interference
Installs in seconds