1/10 1986 Chevrolet K-5 Blazer Ascender 4WD RTR
Key Features
Ascender™ Stamped-Steel Ladder-Frame Chassis
4-Length Adjustable Wheelbase
Licensed 1986 Chevrolet® K-5 Blazer Body
Crawler Style Bumpers
Adjustable 'Rock Slider' Side Bars
3-Link Panhard Bar Front Suspension
4-Link Rear Suspension
Aluminum Suspension Links
Floating Battery Tray
Realistic Axle Housings
One-Piece, Low-Profile Locker/Ring Gear
Heavy Duty CV Front Shafts
Single-Speed, Metal Gear Transmission
Oil-Filled, Threaded Shocks
Dynamite brushed 35T crawler motor and waterproof ESC
Licensed Interco 1.9 Super Swamper® Tires
Spektrum DX2E 2.4GHz radio system with batteries
Spektrum metal gear steering servo
Needed To Complete
Battery Pack
Battery Charger
---
Wraith – 1/10 scale
The 1/10 scale Axial Wraith Rock Racer 4WD 2.4GHz RTR delivers impressive speeds on any terrain, with no assembly required! Includes a 20T 540 motor, an AE-2 ESC, a 2.4GHz radio system, a six-LED light kit and more. Requires a 6-cell NiMH or 7.4V LiPo battery and 8 "AA" cells.
Composite full tube chassis with composite skidplate.
Four-wheel shaft drive with splined plastic slider and screw shaft for a more positive lock to the output shaft.
Castle™ Creations AE-2 forward/reverse ESC with LiPo cutoff, drag brake and standard connector. Compatible with the Castle Link™ USB Programming Kit (sold separately).
Oil shocks with silicone diaphragms and bushings. All feature 0.13 in. (3.5 mm) titanium nitride-coated shafts.
Transmission is equipped with a slipper clutch and steel output gears. Drivers can also upgrade it to handle a three-function "Dig" feature.
Four-link suspension.
Cockpit offers console and gauge detail, with licensed Corbeau® LG1 race seats.
Locked diffs allow easy access for rebuilding and maintenance.
Optimized steering geometry with adjustable caster/Ackerman.
Battery tray is sized for standard 6-cell NiMH stick packs or 7.4V (2S) LiPo packs up to 1.8 in. (47 mm) wide, 5.9 in. (150 mm) long and 1.1 in. (28 mm) high.
2.2 in. (56 mm) Ripsaw™ tires.
2.2 in. (56 mm) black/chrome Rebel™ 8-spoke wheels with a 0.5 in. (12 mm) hex mount.
---
1/10 Ruckus Monster Trunk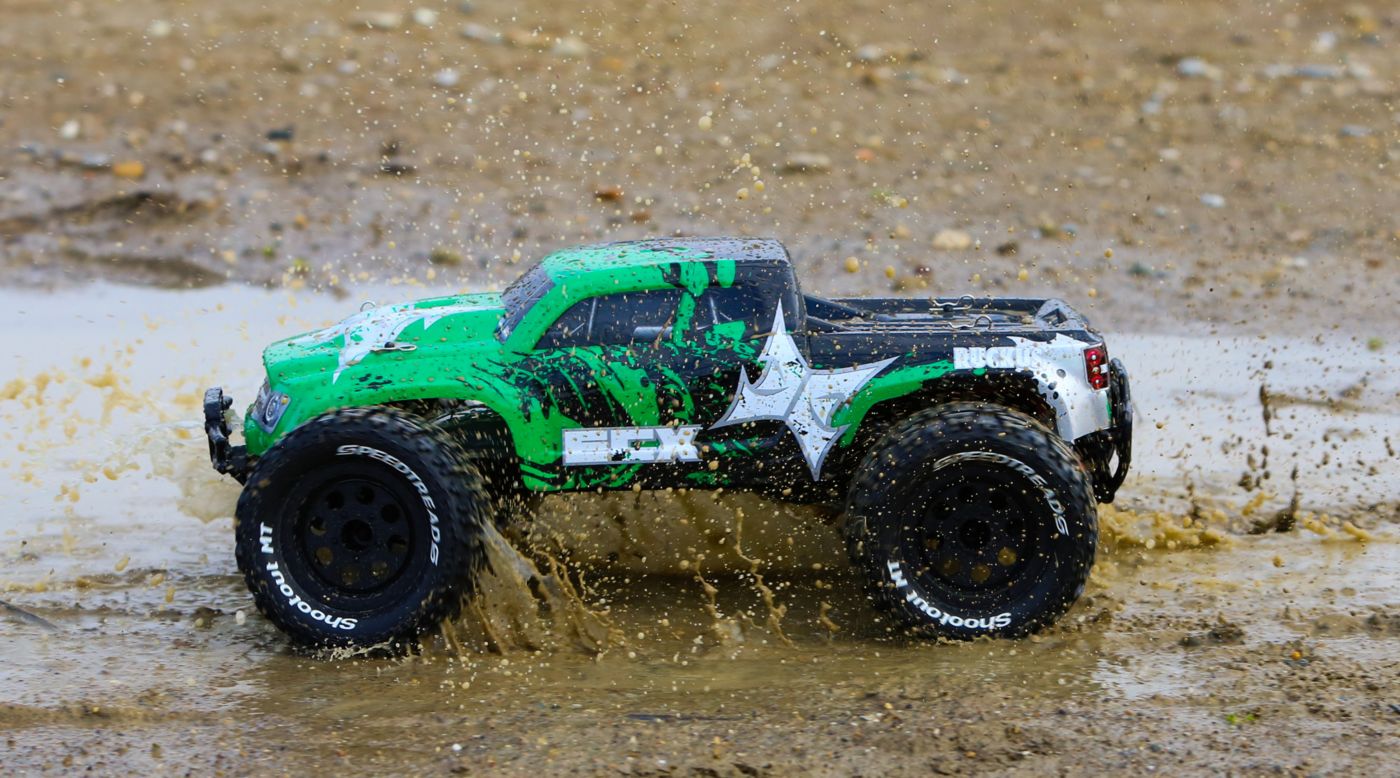 The Ruckus® Monster Truck is the largest vehicle in the Electrix RC® lineup. It is a dependable truck that is designed to take your backyard experience to the next level without breaking the bank. Outfitted with monster truck tires, custom chrome wheels and nylon composite materials, it is a super dependable, hobby-grade RC monster truck.
Key Features
AVC Technology Compatible Learn More
Completely ready-to-run with everything needed in one box
Pre-installed Dynamite® waterproof & LiPo compatible Tazer™ 15T ESC (For use with 2S LiPo batteries only)
Spektrum™ DX2E 2.4 GHz transmitter and waterproof SR201 receiver
Preinstalled Dynamite 15T motor
Dynamite 2-amp peak charger included
Dynamite Speedpack™ 1800mAh Ni-MH battery included
ESC and battery come pre-wired with high-current EC3™ connector
Waterproof Dynamite servo
Nylon composite chassis and parts material provide extreme durability
Upgraded driveshafts provide additional reliability even when pushed to the limits
Beginner-friendly battery retaining system means there are no body clips to lose
Adjustable oil-filled shocks provide great handling
2WD transmission with gear differential makes it reliable and efficient
Transmission includes an adjustable slipper clutch
Fully-painted and -decaled body out of the box means it's ready-to-run and looks good
Dynamite SpeedTreads™ Shootout™ wheels and tires provide relentless grip
Needed To Complete
Nothing – Everything is in the box!
---
1/10 Torment 4WD Brushed SCT RTR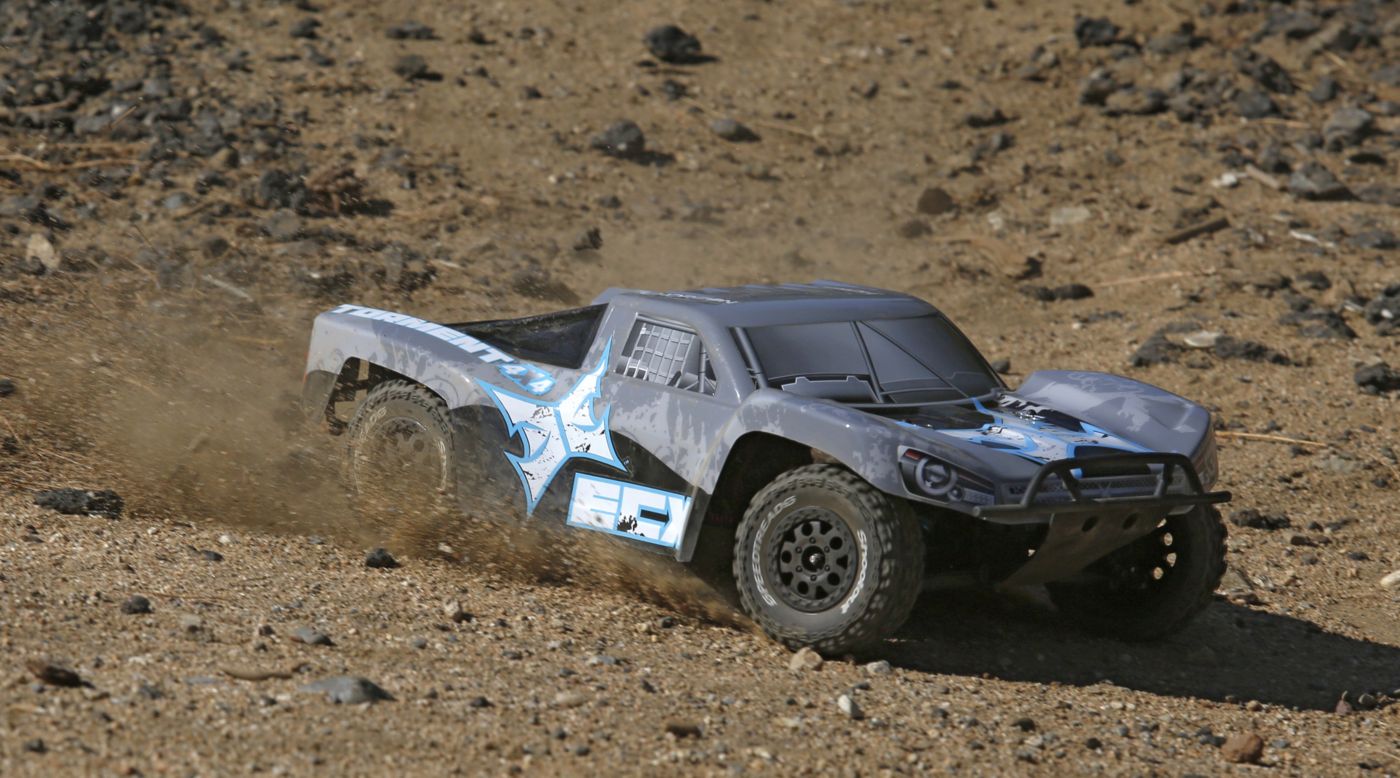 Key Features
AVC Technology Compatible Learn More
Completely ready-to-run with everything needed in one box
4WD Drivetrain with sealed gear differentials
Pre-installed potent 550 sized 15T motor and LiPo (2S LiPo compatible) ready ESC
Spektrum™ DX2E 2.4 GHz transmitter and waterproof receiver
Dynamite® 2-amp peak charger included
Dynamite 2400mAh 7-cell battery included
ESC and battery come pre-wired with high-current EC3™ connectors
Waterproof Dynamite servo and electronics
Nylon composite chassis and parts material for extreme durability
Adjustable oil filled shocks for precise handling in diverse conditions
All-Terrain aggressive treaded tires
Fully-painted and -decaled body out of the box
Beginner-friendly battery retaining system
Real ball bearings, enable higher speeds and a smoother-handling truck
AVC™ (Active Vehicle Control™) Ready*
*Requires Spektrum SRS4210 AVC Receiver
Needed To Complete
Nothing – Everything is in the box!
---
1/10 Twin Hammers 1.9 Rock Racer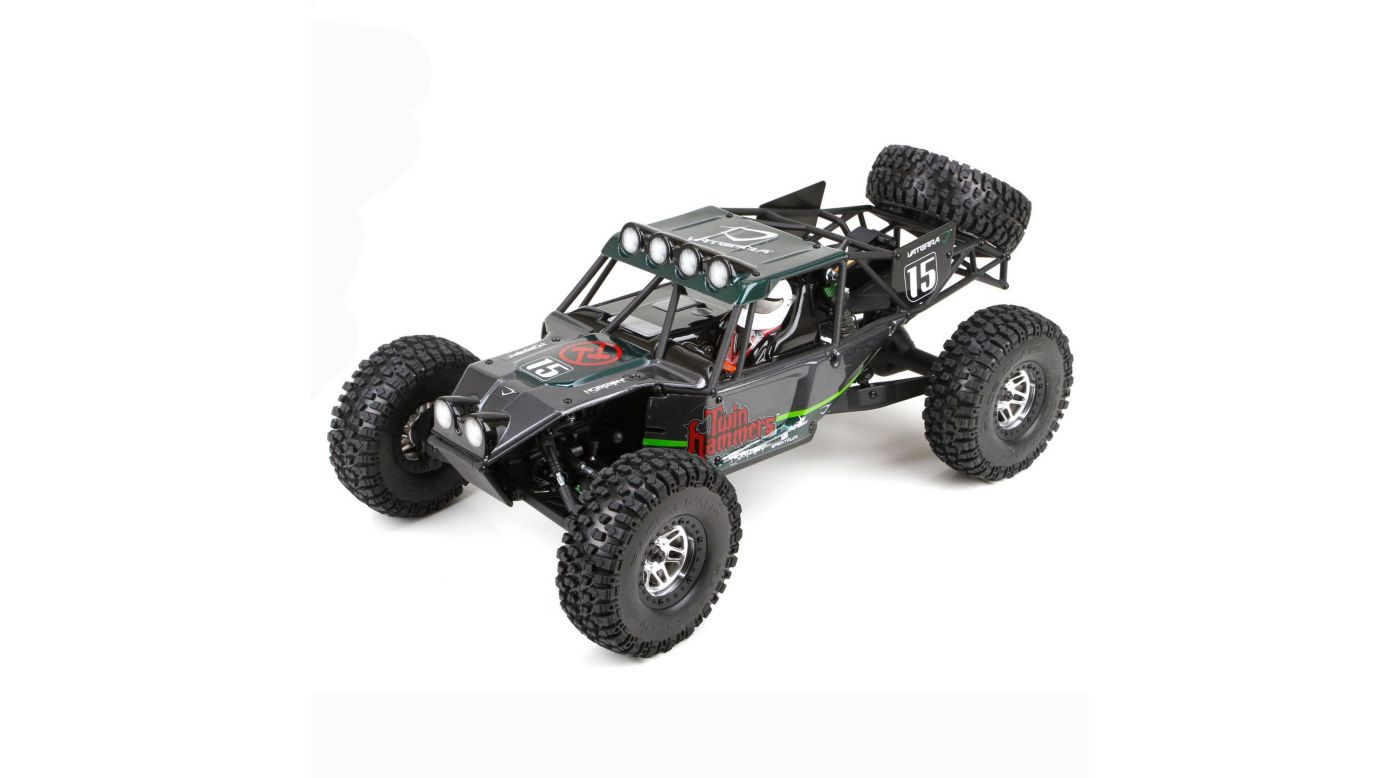 Key Features
AVC Technology Compatible Learn More
Independent cantilever front suspension
Brushless-ready drivetrain
Waterproof electronics (see manual for more details)
>Spektrum™ DX3E 2.4GHz 3-channel radio system included
Scale lights, cockpit and body panels
Shift-on-the-fly, user-selectable, two speed transmission
Dynamite® LiPo Tazer™ 12-turn waterproof ESC
Dynamite 15-turn brushed motor
12mm wheel hexes
Dynamite 2S 7.4V 2000mAh Li-Po battery
Dual-position battery tray for use with the optional Dynamite battery
Beadlock wheels with Race Claw 1.9 scale tires
Molded chassis and multi-piece roll cage
4-link suspension
Adjustable, oil-filled, aluminum, coil-over shocks
Needed To Complete
Nothing! Everything You Need In One Box:
Spektrum™ DX3E 2.4GHz 3-channel Transmitter with Batteries
Dynamite® 2S 7.4V 2000mAh Li-Po Battery
Dynamite 1.8-AMP AC Li-Po Wall Charger
---
Night Crawler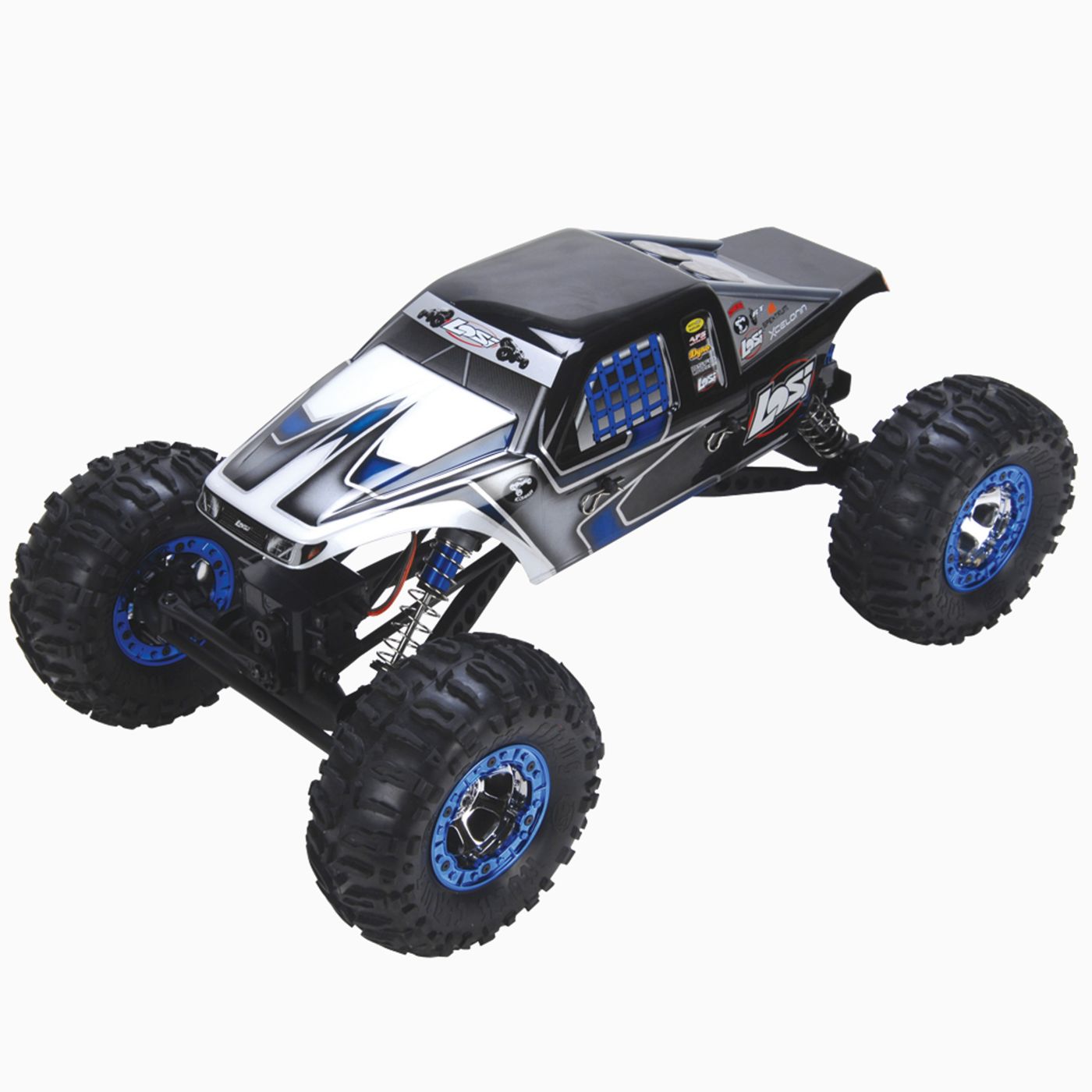 Overview Hit the rocks anytime, day or night, with the 1/0-scale Ready-To-Run Night Crawler. The 1/10 Night Crawler includes a radio system with Spektrum 2.4 GHz DSM Technology, solid front and rear axles with a worm-gear drive, a crawler-specific LiPo compatible ESC and heavy-duty CV Driveshafts. Whether you are new to crawling or an experienced driver, you will have a blast attacking the rocks with the 1/10 Night Crawler.Key Features
The front and rear solid axle features a worm gear drive that acts as a brake when no power is supplied
The included ESC, with crawler-specific programming, accepts NiMH and LiPo batteries
All-metal CV front axle and center driveshafts provide superior durability to the driveline to handle the stresses of rock crawling
The included Losi radio system with Spektrum 2.4GHz DSM technology means you'll never have to worry about radio interference
The included front and rear LED light set comes pre-wired and mounted to the chassis
4″ adjustable aluminum shocks provide durable, smooth operation and maximum suspension articulation without binding
The crawler features a low-center-of-gravity battery tray design that allows for multiple battery types—from NiMH and LiPo "stick" packs to any of the 2.2-inch Losi LiPo crawler battery packs
The molded 4-link suspension setup minimizes rear axle swing and provides more precise handling
True 3-piece 2.2 beadlock chrome wheels, with 12mm hexes, hold the tire bead in place and let you change tires if needed—all without glue
National Champion 2.2 Losi Rock Claw tires with foam inserts are constructed with Losi's blue compound and have the characteristics, grip and traction to scale even the toughest courses
The direct-drive transmission provides an ultra-low gear ratio for rock crawling and metal outputs for durability
The twin vertical plate chassis is anodized blue for a custom look
Zero Ackerman steering provides class leading performance with 45 degrees of steering throw
The competition-legal Grappler Pro body features realistic looks and added functionality
---
SLASH 4×4
Slash 4X4 Ultimate exploits the Traxxas recipe for Ready-To-Race® performance at the highest level by combining a fully loaded Slash 4X4 Platinum Edition with Traxxas' latest 2.4Ghz radio system and powerful high-capacity 7-cell battery pack. This fully assembled, competition-ready package is the top offering in the Slash 4X4 lineup and redefines the Traxxas benchmark for out-of-the-box performance and completeness. Simply put, it's the best of the best and it's Ready-To-Race® from Traxxas, The Fastest Name in Radio Control.® The Slash 4X4 Ultimate is equipped with a full compliment of Platinum accessories to deliver pure short-course racing fun and performance. The new Traxxas TQi 2.4GHz radio system features the exclusive Docking Base™, a revolutionary concept that harnesses the power of your Apple iPhone or iPod touch to create the ultimate pro-caliber radio system. The high-capacity 4200mAh Series 4 battery pack is 7-cells of pure speed at 40+mph. There's even an AC charger included for easy charging. Building on the winning performance of the standard Slash 4X4, the Ultimate includes hard-anodized aluminum Big Bore™ shocks with titanium nitride shafts; blue-anodized aluminum C-hubs, steering blocks, rear hub carriers, and axle nuts; front and rear swaybars in two thicknesses; soft S1 race-compound BFGoodrich® Mud-Terrain™ T/A® tires; and a sealed, silicone-filled center differential that can be installed in place of the standard Torque-Control™ slipper clutch. Everything else is factory-installed and fully prepped for on-track performance. Officially-licensed racing graphics complete the Slash 4X4 Ultimate with straight from-the-track style. No other electric short-course truck can match the Slash 4X4 Ultimate's incredible convenience, competition-grade specs, and pro-level performance.
---
Drave Digger
Take Monster Jam fun and excitement anywhere with the 1/16 Grave Digger, complete with backpack for on-the-go adventure! High-torque Titan 550 motor and 2WD drivetrain deliver wheelie-popping power, and the authentic Grave Digger styling is officially licensed right down to the tombstones for realistic monster fun. "Carved" chevron tires on beadlock-style wheels finish off the Monster Jam look, and the included long-range TQ AM radio system keeps you in complete car-crushing control. Toss the truck and transmitter into the included Grave Digger backpack, and Monster Jam thrills are ready for the road!
---