UMX Vapor Lite HP BNF Basic
Satisfy your urge to fly indoors almost instantly with the E-flite® UMX™ Vapor® Lite HP slow flyer. Smaller and lighter than the classic Vapor models, its unique design approach and high performance combines slow flight capability with incredible maneuverability so you can enjoy flying in spaces even tighter than the average living room. The lightweight yet durable carbon-fiber airframe and feather-light film covering work in harmony to make gravity seem virtually non-existent. Combined with a powerful motor, you can fly at a wide range of speeds, plus harrier, hover and even perform aerobatics including loops, stall turns and more.
Even if you've never flown before, the UMX Vapor Lite HP airplane is light and stable enough to fly slowly, yet it's also tough enough to handle most crashes and bumps against walls and furniture so getting the hang of it is easy. Best of all you can be flying in almost no time after opening the box. There's no building involved—the Vapor Lite HP comes out of the box fully assembled and ready to fly.
Key Features
Completely factory-assembled right out of the box
Excellent balance of size, weight and performance for flying indoors
Ideal for flight in small indoor areas such as a living room
High-Power coreless motor, gearbox and propeller combination
Ultra-lightweight and durable carbon-fiber airframe
Industry-leading Spektrum™ DSMX® 2.4GHz technology receiver
Fully proportional throttle, elevator and rudder control
Fly with any transmitter equipped with Spektrum DSMX/DSM2® technolog
Apprentice S 15e with SAFE 1.5m RTF with DXe Transmitter
Overview
The E-flite® Apprentice® S 15e RTF airplane is the most intelligent RC airplane ever offered by Horizon Hobby. At its heart is groundbreaking SAFE™ (Sensor Assisted Flight Envelope) technology that makes RC flight incredibly easy, even for the least experienced user. Its combination of spatial awareness provides flight envelope protection which adds a degree of security never before available, while its smooth flight capability battles windy conditions so that all you feel is control that's crisp and responsive. Multiple levels of flight envelope protection are provided that can be reduced or removed as your skills progress, yet the "panic" feature is always there to instantly return the model to level flight if you ever lose orientation.
Requiring just minutes to assemble, you'll appreciate how its quiet brushless power system delivers outstanding performance with long, enjoyable flights. Plus it's built to last from lightweight Z-Foam™ material that's tough enough to handle everyday flying punishment without getting bent out of shape. After you've mastered the basics of flight, the Apprentice S is capable of performing a complement of aerobatic maneuvers such as loops, rolls, and even inverted flight. You can also turn the Apprentice S into a great floatplane by simply adding the specially designed E-flite Apprentice S Floats—sold separately.
Key Features
SAFE™ technology provides spatial awareness and flight envelope protection
The ideal beginner's choice when learning to fly with an instructor
Quick, easy assembly
Lightweight and durable Z-Foam™ construction
Powerful 15-size, 840Kv brushless outrunner motor installed
E-flite® 30A Pro Switch-Mode BEC Brushless ESC installed
Large, easy-access battery compartment
Wide-stance tricycle landing gear
Nose wheel steering for better ground handling
Spektrum™ DXe transmitter included
Powerful 3S 3200mAh 20C Li-Po battery included
Li-Po balancing DC charger included
Optional E-flite Apprentice® S Floats available
Convergence VTOL BNF Basic, 650mm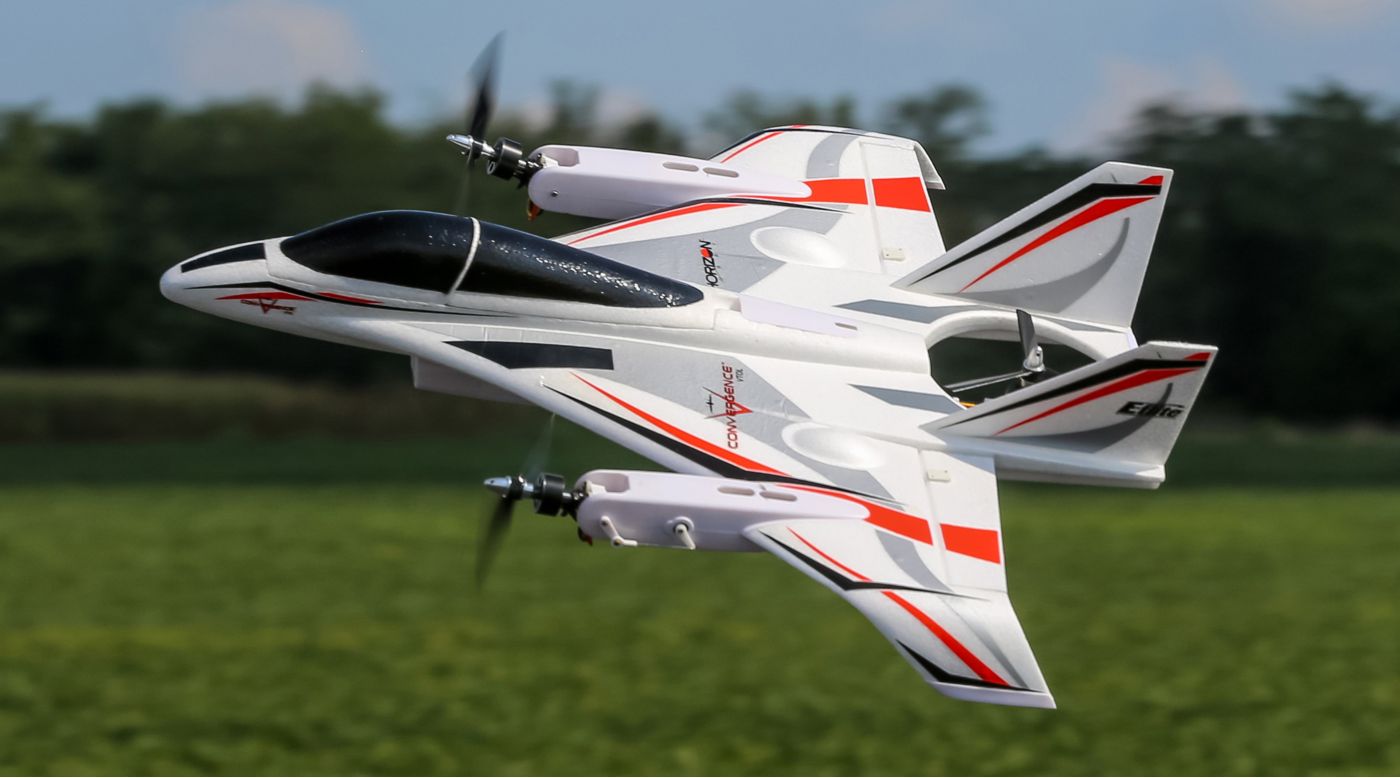 Overview
VTOL (Vertical Takeoff and Landing) RC models are usually a mixed bag when it comes to performance. If they are stable, their speed and agility is often lackluster. If they are nimble, pilots have to work harder to transition between hovering and airplane flight. The Convergence® VTOL park flyer changes all that. Its unique design and exclusive flight control software give you the best of both agility and stability while making the transition between multirotor and airplane flight so smooth and predictable, you will feel right at home your first time on the sticks.
Sleek and Simple
Unlike complex VTOL aircraft that rotate the entire wing and require as many as four motors to achieve vertical and forward flight, the Convergence® park flyer uses a simple, yet sleek, delta-wing design with three brushless motors – two rotating motors on the wing and a fixed-position motor in the tail.
In multirotor flight the wing-mounted motors rotate up into the vertical position to provide lift and flight control along with the motor in the tail. In airplane flight, the wing-mounted motors rotate down into the horizontal position and the model's elevons take over pitch and bank control. Yaw control in airplane flight is provided by differential thrust from the wing-mounted motors.
Key Features
Multirotor versatility and sport plane agility
Designed by champion pilot, Mike McConville
Exclusive flight control software makes it incredibly easy to fly
Stability and Acro Modes provide a wide performance envelope
Powerful brushless motors for outstanding speed and climb performance
Super-simple transmitter setup – no complex programming required
FPV-ready with camera and video transmitter mounting stations
Durable Z-foam™ material
X-VERT VTOL RTF
Overview
The X-VERT® VTOL gives you all the fun and versatility of a Vertical Take Off and Landing aircraft without the need for complex mechanics or fancy programming. It also makes the transition between multirotor and airplane flight as easy as flipping a switch. You can take the X-VERT flight experience to a whole different level by adding the patent-pending, servo-driven FPV camera mount that automatically transitions your FPV camera whenever the X-VERT is switched between the airplane and multirotor flight modes (FPV components sold separately).
Key Features
Multirotor versatility and sport plane agility
Takes off and lands vertically in small areas
Fly slow or fast and perform aerobatics in airplane mode
Can be hand launched and belly-landed like a conventional wing
Simple tail-sitter design and SAFE technology makes VTOL flying easy
Stability and Acro modes that provide a wide range of flight performance
Accepts the patent-pending, servo-driven FPV camera mount (sold separately)
280-size brushless motors compatible with 2S 450-800mAh LiPo batteries
Outstanding speed and climb performance
Lightweight and extremely durable EPO airframe
Colorful decal sheet with multiple trim scheme options
Ready to fly within minutes of opening the box
Propeller guards and vertical fins that are easy to install or remove
Includes a pre-programmed Spektrum DXe transmitter – no setup required
Includes a 2S 7.4V 800mAh LiPo battery, DC balancing charger and AC adapter
Timber 1.5m PNP with Floats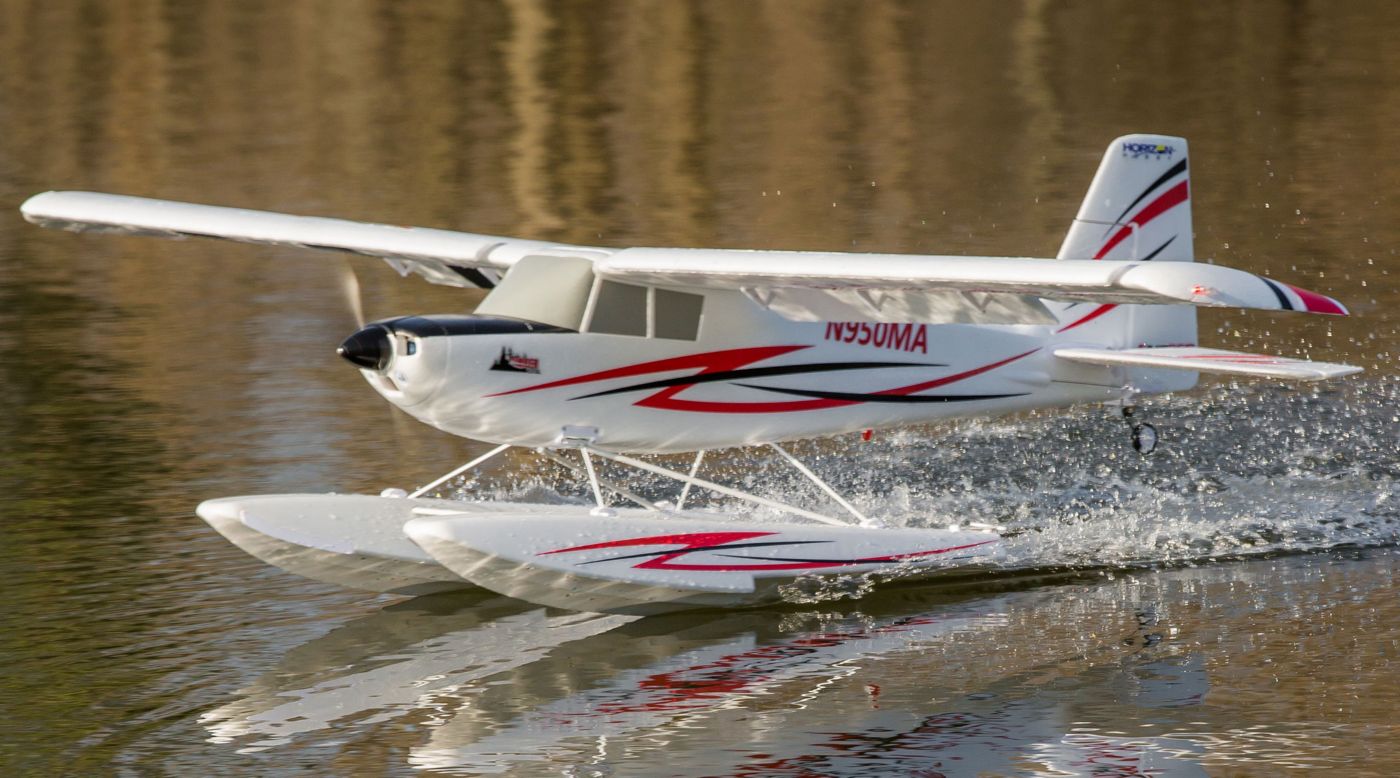 Overview
Make the world your runway with the amazing Timber™ 1.5m PNP park flyer. It comes equipped with an unbeatable combination of features that let everyone from newer pilots to expert sticks enjoy a versatile, sport-flying experience unlike any other.
Sport Aerobatics, Off-Field Adventure, Float Plane Fun-It Does it All
If you've been looking for a great, all-around park flyer that's up for anything, and can be flown almost anywhere, this is it. Its innovative design combines the spirited performance of a sport plane with the versatility of a bush plane so you really can have it all.
Tundra-Style Landing Gear or EDO-Style Floats-Both are Included!
Key Features
Sporty performance with amazing STOL capabilities
Functional slotted flaps and optional leading-edge slats
Shock-absorbing main landing gear with Tundra-style wheels
Realistic EDO-style floats with dual water rudders
LED navigation lights, landing lights, beacons and wing-tip strobes
Lightweight, hollow-core construction
Durable Z-Foam™ material
Powerful brushless motor
Radian XL 2.6m BNF Basic
Overview
Ask any of the thousands of pilots who have flown one. Radian® motor gliders are the sailplanes of choice if you want a quick and easy way to experience the thrill of RC soaring or relax with a quick flight. They are so easy to fly, even pilots with no soaring experience have been able to master the art of riding thermals after just a few flights.
The giant E-Flite® Radian® XL 2.6m motor glider adds a whole new dimension of soaring excitement to the Radian line while staying true to its heritage with simple elevator/rudder/throttle/spoiler controls.
Efficient 2.6-Meter Polyhedral Wing with Spoilers
The wing, which spans just over 8 1/2 feet (102 inches) tip to tip, has been designed to provide superb thermal-grabbing capabilities while minimizing drag for maximum endurance. When it's time to return to Earth, its fully-proportional, retractable spoilers will allow you to precisely manage your descent and use less area to land.
Key Features
Big and easy to fly
Efficient 2.6-meter polyhedral wing with fully-proportional spoilers
Full-Flying horizontal stabilizer for superb pitch control
Assembles and disassembles in minutes
Easy to transport and store
Powerful, efficient brushless motor
Constructed of durable, lightweight Z-Foam™ material
The precision and stability of AS3X® technology
ICON A5 1.3m BNF Basic with AS3X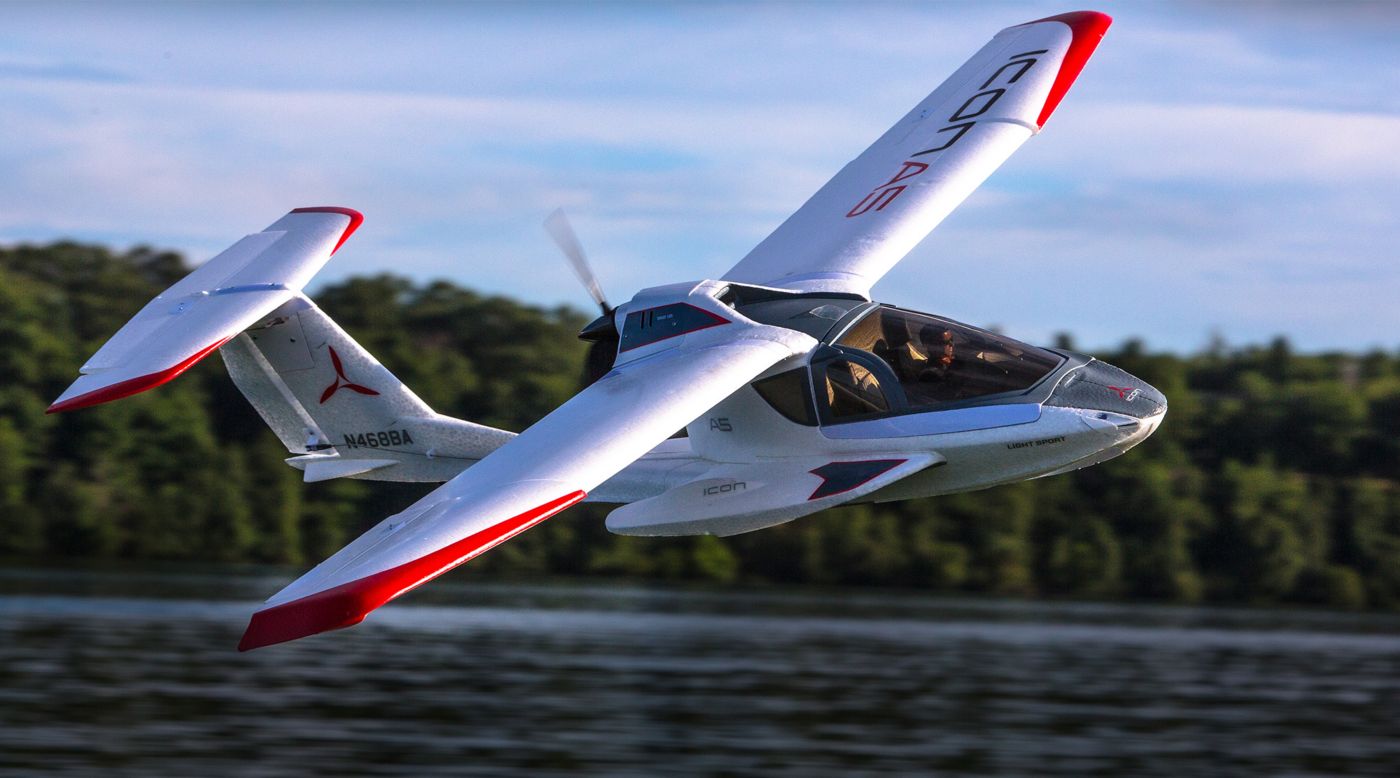 Overview
Like its full-scale inspiration, the E-flite® ICON A5 park flyer makes it easy to discover the thrill of amphibious flight. This Bind-N-Fly® version comes equipped with a powerful brushless motor and the smooth, stable response of a Spektrum™ AS3X® receiver. If you're a relatively new RC pilot, you have the option of activating the receiver's built-in SAFE® Select technology that limits pitch and bank angles so you don't accidentally put the model in an unrecoverable attitude during your first few flights. It will also return the wings to level whenever the sticks are released.
Key Features
Fast assembly
Officially licensed by ICON Aircraft
Spektrum AS3X® receiver with optional SAFE® Select technology
Integrated hull with removable landing gear
Detailed cockpit with pilot figure
Durable Z-Foam airframe
Factory-installed brushless motor, ESC and servos
Optional nose light set (sold separately)
UMX J-3 Cub BNF Basic with AS3X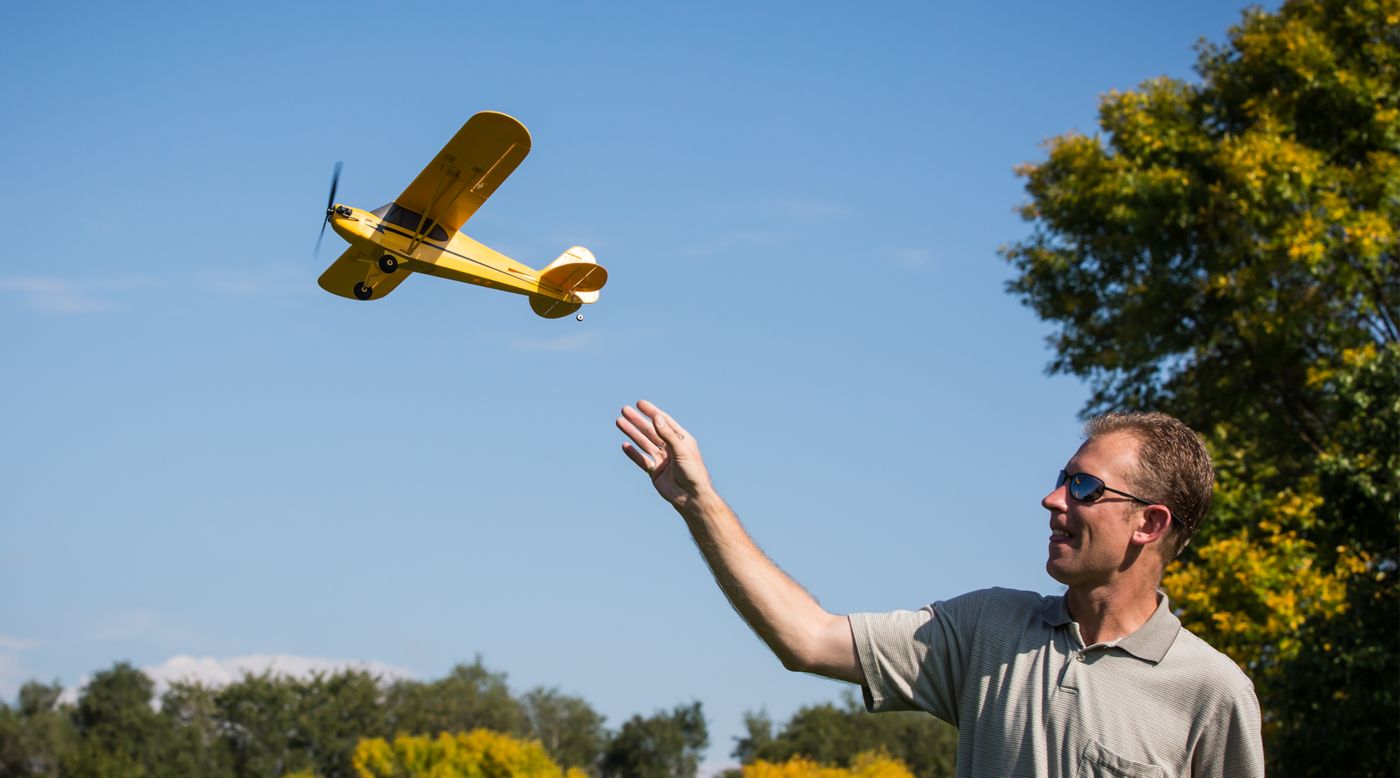 Overview
Wings of Lock Haven Yellow
The J-3 Cub is said to be the best-flying light airplane ever made. Designed in 1937 to be affordable and forgiving in the air, thousands were produced in Lock Haven, Pennsylvania and helped countless aviators realize the dream of flight. Today, lucky pilots scramble at the chance to fly a J-3 Cub so they can experience what it's like to be in perfect harmony with air and machine. The E-flite® UMX™ J-3 Cub is an ultra micro-size tribute to the gold-colored airplane and an upgrade for veteran pilots.
Lightly constructed, this model of the everlasting classic features an authentic outline and molded surface detail. Up front is a 2S brushless outrunner power system that allows you to cruise the park at what seems like a walking pace, or punch the throttle to the stops and master basic aerobatics. But the feature that will help you enjoy flying this Cub even more is AS3X® technology. That's because the AS3X system built into the ultra-micro 6-channel receiver has been finely tuned so you feel as if you're at the controls of giant scale J-3 that's been expertly trimmed right out of the box. Molded hard points in the belly make the installation of an optional float set simple. So whether your fancy is doing touch-n-goes all day, or just cruising around, this fully assembled charm-machine gives you everything that's great about the J-3 Cub and more.
AS3X® Technology
The advanced AS3X® (Artificial Stabilization – 3-aXis) system built into the Spektrum™ 6-channel ultra micro receiver is what helps give the E-flite® UMX™ J-3 Cub an incredibly smooth feel in the air. It's technology that combines 3-axis sensing with exclusively tuned flight control software to help counter the effects of wind and turbulence behind the scenes. As a result, your workload to fly smoothly is significantly reduced so you can enjoy natural feeling control that's precise. It's an impressive flight experience that will have you feeling like you're at the controls of an expertly-tuned scale model that's much larger.
Key Features
Scale markings, engine and surface detail
Brushless BL180, 2500Kv outrunner motor
Advanced AS3X® technology delivers smooth flight
Fits a 180–280mAh 2S 7.4V 30C Li-Po battery (sold separately)
Industry-leading Spektrum™ DSMX® 2.4GHz technology
Ultra micro linear long-throw servos (installed)
Fully assembled with no building required
Optional float set available (EFLUA1190—sold separately)
Habu 32x 80mm EDF Jet ARF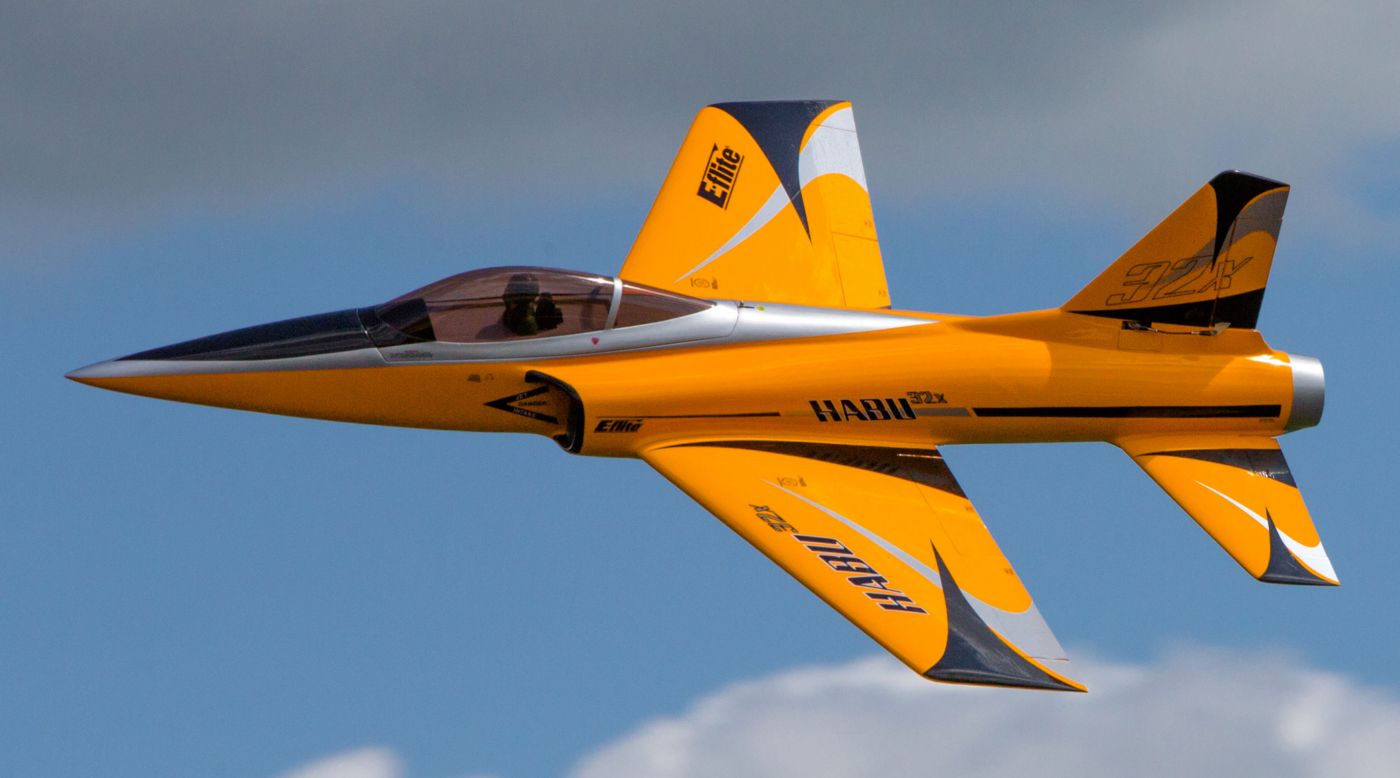 Overview
The E-flite® Habu 32x EDF airplane takes electric ducted fan (EDF) performance and engineering to new heights. Designed around the E-flite Delta-V® 32 80mm fan unit and high-speed DF32 brushless motor, its hyper-efficient intake and exhaust ducting deliver a potent power system that produces a large amount of thrust available as quickly as you can move the throttle stick. The new swept wing and horizontal stabilizers enhance the appearance as well as both speed and maneuverability. The result is a sport EDF that will give even experienced jet jockeys goose bumps. Even more satisfying is the short amount of time you'll need to get this hot-rod flight-ready.
The Sport-Jet Sensation
Since 2008, when the ParkZone® Habu was first introduced, jet jocks and speed fans worldwide have flocked to the Habu line of EDF jets for the sporty looks and great performance. The E-flite® Habu 32 EDF is the largest in the series and has delivered pro-grade performance to the club field environment. The new E-flite® Habu 32x EDF jet takes electric ducted fan (EDF) performance and engineering to new heights. Designed around the E-flite Delta-V® 32 80mm fan unit and high-speed DF32 brushless motor, its hyper-efficient intake and exhaust ducting deliver a potent power system that produces a large amount of thrust available as quickly as you can move the throttle stick. The new swept-back wing and horizontal stabilizers enhance the sleek appearance. The result is a sport EDF that will give even experienced jet jockeys goose bumps. The Habu 32x EDF boasts a level of fit and finish that is every bit as impressive as its performance. Even more satisfying is the short amount of time you'll need to get this hot-rod flight-ready. The recommended E-flite accessories and Spektrum™ radio gear can help provide the smoothest build possible, as well as flight performance even the discerning modeler and expert pilot can appreciate.
Key Features
New streamlined swept-back planform design
Vibrant trim scheme in high-gloss paint and genuine Hangar 9® UltraCote® covering
Molded fiberglass fuselage and vertical stabilizer
Full balsa-sheeting wing and horizontal stabilizers
Two-piece, plug-in wings and stabilizers with carbon blade spar support
Pre-hinged elevators, ailerons and functional flaps
Hyper-efficient inlet and exhaust duct design
Ready for the E-flite® Delta-V® 32 EDF power system (sold separately)
E-flite 15-25 size electric retract ready (required-sold separately)
Optimized for use with modern Spektrum™ micro servo technology
Includes main wheel landing gear doors that improve streamlining
Quick-release battery hatch features a tinted canopy and cockpit detail
Complete precision hardware package includes machined aluminum wheels